Would A Tip Rhinoplasty Be Beneficial For Me?
Q: Dr. Eppley, I had mandible angel jaw reduction(removal of square bone at the posterior part/not the front or anywhere towards the frontal part of face) about 5 months ago. Dissolvable stiches were used. The stitching on the inside was fine. The stitches on the outer/upper part of the gum on both sides were dissolved in about 8 days. I had this done in Asia and had to travel back home, realising the stiches on outer/upper gum were dissolved. No infection. The problem now is that both sides of my gum have a gap/opening and I have to gargle after I eat because food bits get into these openings,flap in the gum.
1. WOULD THIS AFFECT THE SWELLING OF THE GUM TO GO DOWN COMPLETELY?( THERE'S NOW A FLAP/OPENING)
2. CAN IT BE STITCHED AGAIN? TO CLOSE THE OPENINGS ON BOTH SIDES OF SURGERY SITE.WHAT COULD BE DONE TO RESOLVE THIS PROBLEM?
Another thing I'm realising. It looks like the jowl area is protruding, it looks round? The square jaw  is gone but now there is protruding of something (fat?skin?tissue? I don't know)around the jowl area? Age is 41.I tried to suck the inside of my cheek in and I think it helps get rid of the round, bulge on jowl area. Therefore, I'm thinking that a buccal fat removal will help get rid of this bulge. 
3.Please see pics attached and advise what you can do to take care of this bulge, jowl area?. ( Is it fat? skin? tissue or muscle?)
One more thing I've been comtemplating is the nose. Tip augmentation and trimming the fat on the tip area for better definition?
4. I'm not sure what it is that should or could be done to improve the nose. Perhaps there are other things that I am not seeing. Please let me know what you see , what you would suggest doing to improve the nose.
ALSO,LOOKS LIKE DESCENDING FAT BELOW THE EYES, AROUND THE CHEEKS AREA, CREATING A FOLD NEAR BOTTOM PART/SIDE OF NOSE.
5. Is there any method for  this descending fat be removed? Im thinking I'd be better off without them.
Hope to hear from you soon.
A: In answer to your questions:
1) I am not completely sure what this issue is in regards to your gum tissue. Normally the incisions for mandibular ramus surgery are done far away from the gum line in the mandibular vestibule leaving at least 1 cm cuff of tissue from the incision to the attached gingiva. When done in this way there never is any issue with gingival (gum) retraction or healing issues. Because you have these concerns now makes me wonder if your incisions are not either very close to the gumline or actually went through the gumline for access.  At point, gargling is the best way for oral hygiene and to let the tissues heal further. (although at 5 months after surgery things should be fairly well healed. Whether improvement is possible is hard for me to say as I obviously can not see where the flap is in the tissues.
2) As above. Most likely, the gingivomucosal flaps can be re-raised and closed.
3) Jowling is always an issue of loose skin and descended fat. It has nothing to do with the buccal fat pad and its removal will not be helpful for eliminating jowls. It has probably become more apparent and has 'developed' now that the bony jaw angles have been removed. (loss of bony support) Jowls can only be treated by either spot liposuction or a jowl lift.
4) I would agree with your assessment of your nose that further tip projection and definition would be aesthetically beneficial. A tip rhinoplasty with a columellar strut and a double stack tip graft with possible nostril narrowing is how that could be accomplished. I have attached some imaging of that potential result.
5) The fat around the nose at the level of the nasolabial fold can be treated by very small cannula liposuction if desired.
Dr. Barry Eppley
Indianapolis, Indiana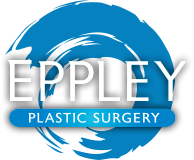 North Meridian Medical Building
Address:
12188-A North Meridian St.
Suite 325
Carmel, IN 46032