Will My Mons Get Lifted With My Tummy Tuck?
Q: Dr. Eppley, I am interested in some form of a tummy tuck. I am 42 years old, totally done with babies,  5'6" and my highest weight was 235 (pregnant) and I'm down to 150lbs and has been that weight for over a year. I'm trying to come down 10 more lbs. Should I get down 10lbs more before I have surgery?  If I do the surgery, will I be okay to lose 10 more and possibly work off that top fullness, or will it look lose again?  I go to the gym three to four days a week and I've been working really hard for a really long time.  It's getting the point where I'm starting to get really discouraged, because the more I lose, the worst my stomach looks. 🙁  I have attached pictures of my stomach from all sides. I did try to get the  best photos possible (I am attaching a back view—just in case) since I'm not sure if I need an extended tummy tuck or the body lift.  Do you think I need it or will the extended TT will be sufficient?  I mean, obviously the hanging belly is the biggest issue, but I really want a good contour.  I am also very self-conscious about my mons area, and hope it will get pulled up (maybe a tiny bit of lipo on it?) in the process.  (It's totally embarrassing!)  Will that happen?  I really like how your previous patient (2nd attachment–tummy tuck after) turned out—the scar symmetry, the low profile, and how the mons area looks.  I also have attached another photo from the web that I thought looked similar to me in the before photos.  Do you think I could achieve a result like that?
A: Your pictures were great and show exactly what you need. You definitely do not need a body lift and just a bit of an extend tummy tuck. Your mons will be liposuctioned and lift at the same time as the tummy tuck. Whether any patient can achieve the result that another patient obtained can not be precisely predicted. But if you look similar before surgery, then a similar result may be possible.
If you are within 10 to 15lbs of your weight goal, there is no reason to lose any more. The surgery process will take care of that weight. (what is removed during surgery and the weight loss after surgery during the recovery)
Dr. Barry Eppley
Indianapolis, Indiana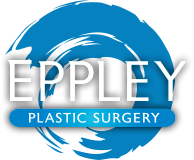 North Meridian Medical Building
Address:
12188-A North Meridian St.
Suite 325
Carmel, IN 46032