Will Migraine Surgery Help My Headaches?
Q: Dr. Eppley, I am interested in migraine surgery. I have been suffering from disabling, chronic migraines since 1991. However, I have been suffering from migraines daily since 2011. My neurologist prescribed different types of medicines, but nothing helped. The neurologist also performed several tests including MRIs and CTs but could not find the cause of my migraines. In 2012, I began seeing a headache specialist but that too was unsuccessful. In 2013, I began seeing an acupuncturist/chiropractor. This helped very little in that I still suffer from migraines daily and the pain is even worse during my menstrual cycles. I can no longer depend on pharmaceutical short term fixes that do not and the harm it has done on my body. I'll try to explain the location of my migraines the best I can. I usually feel my migraines right underneath my eyebrows and between them. During a migraine, I press whatever tissue that is inside my eye sockets (the area closest to the middle of my eyebrows). Doing this can take pressure off but only while I continue to press. Also I can feel a difference in the amount of swelling in the tissues of that area when my migraines are at a ten plus. There are also some rare times when my migraines are in the temple location. I hope I explained in a way that was not confusing to you.
A: Your migraine history/story is fairly classic from my perspective as patients often seek surgery as the last measure. The place to start is to define a patient's migraines by location…where do they start and spread to. What makes some migraines improveable by surgery is if they come from a point of peripheral nerve compression. Your description sounds similar to what migraine patient's experience when they have peripheral nerve compression of the supraorbital/supratrochlear nerves as their trigger point. This strongly suggests that migraine surgery consisting of nerve release/decompression through an open hairline approach could be effective for migraine relief.
Dr. Barry Eppley
Indianapolis, Indiana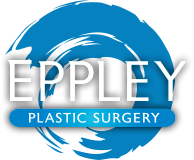 North Meridian Medical Building
Address:
12188-A North Meridian St.
Suite 325
Carmel, IN 46032