Will Jaw Angle Implants Make My Face Look Too Full?
Q: Dr. Eppley, I am considering jaw angle implants. I have been considering your reply to me about the possible unaesthetic fullness of my lower face due to the horizontal impact of the implant. I was wondering if this is a set figure or if some of the width could be "shaved" off prior to insertion? I am anxious not to have a "chipmunk" roundness I am truly very aware that I am by no means a beauty, far far from it, but my reasons for the jaw angle option was that I could get rid of the prominence of the jaw in my profile. I think you can see that there is quite a difference in my profile looking left and right. There is also a slight asymmetric difference in my jaw angles as the right appears to be higher.  If this is to proceed then I am wondering about the length of time that I should set aside for a visit to you , consultation and surgery and recovery. I should mention that my current weight is 83kg and I understand that my proper weight should be closer to 77kg. Would dropping this weight have any affect on the procedure? I ask this as I am currently working very hard to reduce my weight with diet and lots of exersize. 
Many many thanks.
A: JAW ANGLE IMPLANTS COME IN A WIDE VARIETY OF VERTICAL AND WIDTH NUMBERS AND ANY OF THEM CAN BE ADJUSTED DURING SURGERY. THE BEST WAY FOR YOU TO AVOID AN UNAESTHETIC ROUNDNESS IS TO SHAVE THE JAW ANGLE IMPLANT sO THAT IT ACTUALLY COMES TO A VERY SHARP FLARE. WITH YOUR THICKER TISSUES THIS WILL THEN NOT MAKE IT LOOK ROUND BUT RATHER PROVIDE A HINT OF 'ANGULARITY'. THE POTENTIAL UNAESTHETIC FULLNESS IS CONTROLLED PRIMARILY BY HOW THICK THE SOFT TISSUES ARE AND THE HEIGHT OF THE JAW ANGLE. MOST PATIENTS COME IN THE DAY BEFORE SURGERY, HAVE SURGERY THE NEXT DAY AND RETURN HOME IN 48 HOURS BASED ON THEIR COMFORT TO TRAVEL. I DON'T THINK THAT RELATIVELY SMALL AMOUNT OF WEIGHT MAKES ANY DIFFERENCE FOR THIS FACIAL SURGERY. I BELIEVE YOU HAVE EXPLAINED IT VERY WELL. THE KEY IS TO CUSTOM CARVE AN IMPLANT FOR YOU THAT REALLY ACCENTUATES THE ANGULARITY OF THE JAW ANGLES. MOST JAW ANGLE IMPLANTS HAVE ROUND ANGLES WHICH IN YOUR CASE MUST BE MODIFIED.
Dr. Barry Eppley
Indianapolis, Indiana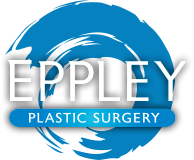 North Meridian Medical Building
Address:
12188-A North Meridian St.
Suite 325
Carmel, IN 46032