Will Breast Augmentation With Fat Injections Work For Me?
Q: Dear Dr Eppley, I am contacting you with interest in stem cell-enriched breast augmentation. I think it is an interesting new technique and it has raised many questions in my mind. Here is my list of questions.
1) First of all, how is the surgery done and how much fat do you need to do it?
2)  Specifically, I would like to know whether it is possible to transform my small A-cup to a preferred C/D cup. Is this possible with the procedure. What is the average gain in ml when you have an A-cup?
3) What are the risks? From other plastic surgeons I hear that the long-term effects are very uncertain.
4) I am kinda slim, so I am wondering if I have enough fat on my body to do the procedure?
I am looking froward to our answers.
A: In answer to your questions about breast augmentation with fat injections and stem cells, here is some current realities with it:
1) It is not possible to go from an A/B cup to a C/D cup with this technique. The only reliable method to make that amount of change are implants. Fat injections can increase breast size about a 1/2 cup, in some cases maybe a full cup. It may take more than one injection session to achieve a full cup increase.
2) If you are very thin, and it sounds like you are, then you do not have enough fat to perform even a small breast augmentation. Even in a 1/2 cup to full cup increase, the volume per breast must be at least 100 to 150ccs. At that volume represents concentrated fat after harvest. Which means about twice that amount needs to be aspirated before concentration.
3) The risks of the procedure are largely what happens to the fat after injection. Currently, no method can guarantee how much fat will survive. And there is always some fat resorption of the injected volume. With resorption there is the possibility of lumps or hard spots and breast irregularities.
While the concept of breast augmentation with fat remains very appealing, it is a work in progress currently.
Breast implants
still offer the most assured, simplest, and reliable for safely increasing one's breast size.
Dr. Barry Eppley
Indianapolis, Indiana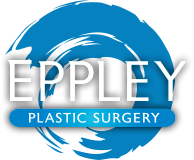 North Meridian Medical Building
Address:
12188-A North Meridian St.
Suite 325
Carmel, IN 46032