What Types Of Facial Reconstruction Do I Need?
Q: Dr. Eppley, I reached out to you last year regarding a consult for reconstructive facial surgery following an ATV accident several years ago. Since I have had several reconstructions and am now looking to improve my overall appearance and have reached out to you because of your experience in both aesthetic and reconstructive plastic surgery.  Your name was also mentioned in a report by Advance Medical as an expert in this area.
At the time, you had requested a CT scan of the face, which I did not have–but now have one.  I have attached photos, 3D reconstructed CT scan, and a brief medical history for your review.  The goals of surgery are:
– Improve symmetry of the face, especially involving the eye.  This includes the buldging of the eye ball itself, and position of the lid.  I fully realize that a full restoration of symmetry is not possible and that surgery on the opposite eye may be necessary to get the most aesthetically pleasing result.
– Reduce the appearance of the port wine stain on the left side of face, near the eye
– Reduce the appearance of the scar on left cheek
– Improve overall appearance, ie. what procedures could be done in combination to ENHANCE overall appearance. Would a strong chin/jaw divert attention from eyes?  Would other facial implants help?  Would removing the nose bump? (This is why I value your experience in aesthetic plastic surgery)
I know you are very busy and I appreciate you taking a preliminary look at this case for consult.
A: Thank you for sending your pictures and 3D CT scans. What they show is that despite an excellent anatomic reduction of the fractured zygomatico-orbital bones (and an infraorbital-malar implant) your face is not normalied. The problem now, and is a quite common one after facial trauma and multiple reconstructive surgeries, is that the original injured tissues have become 'skeletonized'. There has been loss of subcutaneous fat with scar tissue that has caused lower eyelid scar contraction as well as the lower facial scar prominence. I think that the left eye does not really bulge but that the lower eyelid is vertically short and contracted, exposing more sclera in that eye.
From a reconstructive standpoint focusing on the original injured tissues, I would recommend the following:
Lower Eyelid Reconstruction with Dermal-fat Graft and Lateral Canthoplasty (your prior canthopexy was insufficient)
Left Geometric Facial Scar Revision (your prior laser resurfacing probably made little difference)
Injection Fat Grafting to Left Cheek and Infraorbital areas (the tissues don't need suspending, they need more volume.
From an aesthetic standpoint, I would need more pictures for better assessment for both rhinoplasty and jawline enhancement.
Dr. Barry Eppley
Indianapolis, Indiana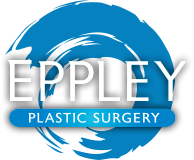 North Meridian Medical Building
Address:
12188-A North Meridian St.
Suite 325
Carmel, IN 46032