What Type Of Cheek Implants Do I Need Because Of My Asymmetry?
Q: Dr. Eppley, I have been an admirer of your work for some time & consider your website an invaluable resource for patients seeking to inform themselves in regard to cosmetic procedures.
I am a young male in my late twenties. My question relates to cheek implants. Specifically, I am looking to address two issues and I am hoping you might offer me some insight & the benefit of your expertise to provide advice as to what might be suitable choices. I have some asymmetry, my right cheekbone is less pronounced and has less anterior projection than my left side. I prefer the left side. I have also lost some weight & this has contributed to a loss of mid-face volume and deepened nasolabial folds. I do however have fairly good malar projection laterally, especially on my left side.
Would you advise me to address these issues with submalar implants of differing sizes or perhaps a combination implant on one side or both? I wish to avoid feminising my face through excessive lower cheek volume, but I am very keen to mitigate the asymmetry and restore lost volume in the midface. I would like to achieve the classic "v" shape model look if at all possible, but addressing the two issues I described is my priority.
Thank you for your time and attention.
A: In regards to your cheek asymmetry, the issue is whether you should just correct the right side to better match the left or do both sides with differing size and shaped cheek implants. The issue with either approach is how to best obtain symmetry. To do so you have to have a stable target so to speak. It is more predictable with standard preformed implants to just do the right side to try and match the left. But when it comes to implanting both cheeks that are already very different, it is pure guesswork with preformed implants. And such guesswork will undoubtably lead to improved cheek and midface volume but persistent asymmetry of some degree. If you are going to both cheeks, it is probably best to consider custom designed implants to get the best coverage and volume with the best shot at achieving much improved symmetry.
Dr. Barry Eppley
Indianapolis, Indiana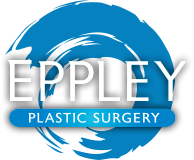 North Meridian Medical Building
Address:
12188-A North Meridian St.
Suite 325
Carmel, IN 46032