What Profile Should I Have For My Breast Implant Replacements?
Q: Dr. Eppley, Thanks for speaking with me last week for my breast implant replacement consultation. I am scheduled for breast implant replacement surgery next month and I have a question. On my pre-op papers, I noticed you are recommending a change from my current round 390 cc moderate profile to high-profile 595-655 cc implant. I am familiar with the moderate profile, but not so much the high. I just wanted to make sure the high profile is not going to be the "round ball" look. I am wanting a more natural look. Could you explain the use of the high profile for me? Again, thank you for you time and for seeing me last Friday. Im looking forward to my procedure.
A: Your question about the profile of your breast implant replacements is a good one and understandably can be confusing. When comparing saline (your current implants) and silicone (your new implants) implants, the projection/profiles between them are not comparable or 1:1. Saline implants naturally sit higher (have more projection) than silicone breast implants because they are under some pressure or distension from the saline. (particularly if they are overfilled) Silicone is softer and not distended because they really are to some degree underfilled for the bag. (this is demonstrated by looking at a silicone implant sitting on the table and it will have an 'ashtray' effect while a saline-filled one will be very round and puffy) Thus a moderate saline implant profile is really comparable to a high silicone implant profile.
There is also the issue that as you go bigger in implant size, you do not want the implant to be too wide. Thus a higher profile silicone implant allows for the increased volume but without adding substantial more implant width.
Dr. Barry Eppley
Indianapolis, Indiana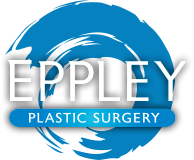 North Meridian Medical Building
Address:
12188-A North Meridian St.
Suite 325
Carmel, IN 46032