Should I Have A Sliding Genioplasty or Jaw Surgery?
Q: Dr. Eppley, I would like to have an online consultation in relation to an osseous genioplasty procedure or jaw surgery.
Over the past 3 years I have conducted some personal research, ~5 consultations, and also previously had a chin implant a number of years ago which I had removed after a few months of having the implant.
I would greatly like to have an online consult given Dr Eppley's significant experience- and that I have found where I live.
Regarding my condition, I have a good bite – but heavily proclined lower teeth. Despite the proclination, my soft tissue profile actually does not make this 'dental bulge' so distinct (see images) – rather I have mostly a small/backwards lower jaw. The primary medical aspect I consider is not bite but sleep apnea related – which is quite bad and has become significantly worse over the recent years.
I have a good range of pictures + CBCT scan that I can send through/and also live display on my computer during the consult to assist in understanding the situation virtually.
Please note some points I would hope to raise/discuss to give some more context given my experience with the situation:
1) The 8mm chin implant I had years ago gave nice projection (see image) – and looked genuinely better overall, but significantly deepened the labiomental fold which led to a somewhat uncanny result – as I understand and have seen other cases – this can be controlled by a genioplasty forward + down movement – hence a key reason for my preference in the procedure.
2) I also have researched and done some consultations for jaw surgery. I hope to avoid jaw surgery because the procedure is more invasive – but open to discussion + have some scans from one other jaw surgery consult.
3) I'd like to discuss some genioplasty cases I have seen online that appear similar to mine (backward and short chin). Some 'major' ~8-10+mm advancements in these cases gave surprisingly great results – comparable to jaw surgery advancements. In some cases these people were recommended with jaw surgery as the only solution given their profile (whilst having a decent bite) – but opting for genioplasty still led them to a very good result. Hence a key reason I have been quite interested in osseous genioplasty over jaw surgery.
4) I'd like to get an idea of a procedure plan/cost.
Greatly appreciate your time and look forward to hearing from you.
A: Thank you for your inquiry and detaiilng your concerns and chin implant history. There are three things you have had stated that makes the case for jaw surgery not an isolated chin surgery.
1) 'Bad' sleep apnea
2) Heavily proclined lower teeth
3) Deepening of the labiomental fold with the chin implant (the same will happen with a sliding genioplasty)
#1 and #3 are the long term issues that need to be heavily considered. Do you really want to live the rest of your life with that degree of sleep apnea?  If you took out the chin implant because of the labiomental fold change why would you feel any better about that same effect with a sliding genioplasty?
While I can certainly understand  why one would want to avoid jaw surgery if possible but I would question tjhat decision in a young person. I have seen plenty of patients who opt for isolated chin augmentation or aesthetic jaw implant surgery only to reverse those later when they have decided to have jaw surgery…which they should have done so initially.
That being said there is nothing wrong with a sliding genioplasty as long as one has carefully considered the jaw surgery option which does address the fundamental problem.
Dr. Barry Eppley
World-Renowned Plastic Surgeon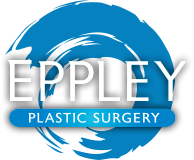 North Meridian Medical Building
Address:
12188-A North Meridian St.
Suite 310
Carmel, IN 46032