Should I Be Concerned About The Reports Of Silicone Chin Implant Bone Erosion?
Q: Dr. Eppley, I was all ready to go ahead with the chin implant, but I have read some disturbing stories and research papers about how "silastic implants" lead to bone erosion in chin implants only, and how they could be as deep as 1.5 to 4 mm in depth, and their close proximity to root apices. Also, I am wondering why some surgeons, such as yourself, use screws to secure the implant while others just insert and leave it in the created pocket. I never thought of this aspect of chin implants, the complication with bone erosion.
A: You are referring to an old phenomenon that is largely irrelevant today. If a chin implant is placed too high up off the chin point (which is not where it should go), there may be some settling of the implant over many years into the softer alveolar bone under which lie the tooth roots. Some refer to this an 'erosion' but it is not an active process but a passive one representing pressure release. (meaning it stops once the pressure of the push of the overlying soft tissues is released)  If properly placed on the basal bone of the chin, which is 10 – 15mm below the lowest level of the tooth roots, this is an issue which is not seen. If this is an unsuppressed concern, I can also use chin implants made of Medpor material which have little history of showing the same effect. The difference is that the cost of surgery will increase as these implants are more expensive.
The number one complication of any facial implant, chin implants included, is shifting of the implant causing implant malposition and asymmetry. The most assured way to avoid that problem is to secure it to the bone, a very simple and effective method using screw fixation. It makes me feel the most comfortable that there is no chance the implant will shift either after surgery or later in life for any reason.
Dr. Barry Eppley
Indianapolis, Indiana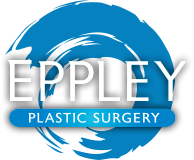 North Meridian Medical Building
Address:
12188-A North Meridian St.
Suite 310
Carmel, IN 46032