Rhinoplasty Recovery
Q: Dr. Eppley, I have a question about my rhinoplasty recovery. I recently had surgery on my nose for a breathing issue out of the left side of my nostril and am 3 1/2 months post op, I was diagnosed with a collapsed septum and was recommended Septoplasty. I was referred to a local Otolaryngologist from my in network primary care physician and inquired about the surgery. At the time of the consultation I asked if a small spur on the side of my nasal bridge could also be removed (Not the dorsal profile) while they preformed the surgery. I was told it could and envisioned the nose I had without the spur and better breathing functionality, unfortunately now post op I feel my profile has been changed and my nasal tip now seems more lifted and my nostrils are more visible. I also believe my nose has been narrowed and appears wider due to the dorsal line being adjusted. My nose also appears crooked due to the refined definition. Along with that I am experiencing swelling in my top lip and from eyebrow to eyebrow with a tight discomfort in the middle of my head. With all that being said here are a few questions I have:
1: Can I expect my nasal tip to drop as the swelling subsides and when the swelling subsides and the skin relaxes do things expand?
2:Do you personally have any experience with a patient who has experienced tight swelling and discomfort in there forehead and lower lip for that long of a time frame? It's been present since surgery.
3: In regards to revision surgery after the swelling subsides and if I am still unhappy can the profile be restored?
I have attached a comparison photo.
Thanks In advance.
A: Thank you for your inquiry and detailing your recent nasal surgery. As I have no knowledge as to what was actually done structurally during your nasal surgery I could not remotely comment on what its long-term effects would be. I can, however, make some general statements about rhinoplasty recovery:
1) Whatever nasal tip decent is going to occur, it will most likely have occurred by six months or so after the procedure.
2) The persistent tightness sensations in the forehead are not symptoms that I recall having had a patient mention before.
3) Tightness in the upper lip, however, can be present after surgery and can take months to subside…depending upon what was actually done.
4) Profile restoration and tip derogation can always be done secondarily if needed.
I would give yourself a full six months and then ponder #4.
Dr. Barry Eppley
Indianapolis, Indiana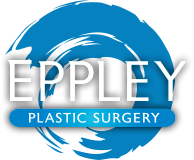 North Meridian Medical Building
Address:
12188-A North Meridian St.
Suite 325
Carmel, IN 46032