African American Revision Rhinoplasty
Q: Dr. Eppley, I am interested in a revision rhinoplasty. I had a rhinoplasty in Mexico three years ago. I saw a picture from the surgeon that had done an ethnic rhinoplasty on an African American female's nose that had features similar to mine. I liked that that tip was not pinched or raised or triangular like Michael Jackson's nose. We agreed that he would not touch the tip or lift the tip. Afterward no stitches or cut to the nostrils was seen but there was increased nostril show to my surprise and my tip was smaller. My entire nose was lifted and I now feel a nose bone which I'm almost certain I did not feel before. Another plastic sugeon said my nose has been changed. She said once the nose is lifted it can't go back down. But I'm wondering is there a way to fill out tip, minimize the nostril show, and widen the nostrils again maybe with a filler?
A big problem that I have is that I can see my columella. In a before picture of my nose I see no collumella. My long time best friend, whom I've not confided in, said she almost didn't recognize me. People kept saying who is that. Also the upper part of nose is high now and there is increased height now from top of bridge to top of nose. My nose is standing higher now and the tip is pinched 😪
Is it possible to revise this nose to look more like my old nose? 
A: Thank you for providing some of the specifics of rhinoplasty. What counts is what you see now versus what your nose used to look like. It appears by your pictures and description that you had a nasal implant placed. (it is not a bone but an implant) By removing the implant your nasal bridge will go down as much as the size of the implant which should take that part of your nose back to the way it was.
For the tip, cartilage grafts can be used to widen the tip, provide increased support to your nostrils and bring down the tip again. The key is the cartilage graft to do it as enough material is needed to do an adequate job. You have three choices for the cartilage grafts; 1) septum and ears, 2) your own rib, or 3) use of cadaveric rib grafts.
While getting you back to your exact preoperative nose shape may not be completely achievable with any form of revision rhinoplasty, I think you could go a long way to getting a nose shape that is much more like you used to be.
Dr. Barry Eppley
Indianapolis, Indiana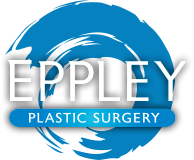 North Meridian Medical Building
Address:
12188-A North Meridian St.
Suite 325
Carmel, IN 46032