Paranasal Augmentation with Hydroxyapatite Cement
Q: Dr. Eppley, I am writing you based on a post I saw on realself where Dr. Eppley discussed options for paranasal augmentation with a patient.
I am a 32 year old female with some sinking in the midface area and prominent nasolabial folds for my age. I saw a maxillofacial surgeon to discuss correction and he told me that the sinking is due to bone deficiency in this area and suggested a goretex implant. I believe he is correct in his analysis as I was born premature and have had quite a lot of dental work in my life. I have also been told my orthodontist(s) that my upper jaw is quite small, making much of this dental work a bit complicated.
I came very close to having the procedure done with goretex but ended up deciding that I was not comfortable with having a plastic implant as infection is possible even many many years after placement and removal is very difficult. I would prefer another material… And after doing alot of research and it seems that coral hydroxylapatite is a good option as it is fairly permanent and typically does not get infected because of vascularization.
I would like more information regarding the technique used, how permanent it is, how much experience the Dr. has with this procedure, cost and potentially to book a consultation. Would the doctor be using radiesse or is this an actual implant which he would use? Thank you so much 🙂
A: When it comes to paranasal augmentation, any variety of alloplastic materials can be used. While one can have a debate about which material is the best, one thing that is clear is that hydroxyapatite granules are no longer commercially available. This leaves the only option for an hydroxyapatite material as hydroxyapatite cement…which is probably better anyway since it can be formed and allowed to set into place. (granules tend to spread out and become uneven) As a participant in the original development of one of he existing hydroxyapatite cements that is currently commercially available (Mimix from Biomet-Stryker), I have tremendous experience in its handling properties and surgical placement. Such a material is a permanent bone cement into which bone directly attaches. While infection is always possible with any surgical procedure, I have never seen it with hydroxyapatite cement into which antibiotic powders are added in its intraoperative preparation.
I would not confuse the Radiesse injectable material with hydroxyapatite cement. That may seem similar but they are not in many ways. Besides being injectable, Radiesse contains the type of hydroxyapatite particles that end up being absorbed and the injectate only contains 30% hydroxyapatite particles and 70% carrier material…which is why it is injectable. While Radiesse does last longer than most other injectable fillers, and it is a perfectly fine injectable option for paranasal augmentation, it is not a permanent augmentation material.
Besides taking a lot of experience to know how to work with it, particularly in the limited confines of an intraoral application, its cost is another reason it is not commonly used for facial augmentation.
Dr. Barry Eppley
Indianapolis, Indiana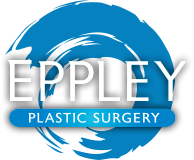 North Meridian Medical Building
Address:
12188-A North Meridian St.
Suite 325
Carmel, IN 46032