Custom Jawline Implant Recovery
Q: Dr. Eppley, I thank you for your pre surgery notes in relation to the psychological effects of living with a new jawline implant have become apparent this weekend. I think the initial panic set in and I've had to take a step back and think about your comments again. I think the initial feeling is that the implant is way to big – but again I've taken onboard your comments around swelling and the amount of time that should be allocated to allow this to subside. Aside from this I'd like to ask a few questions:
1) Can you advise how long I should wait to shave the area under the chin – where the stitches are placed (these dissolve naturally right?)
2) Will I have a noticeable scar from the skin were the stitches are?
3) If after a number of weeks the implant still looks out of proportion and I decide to have it removed what are the implications? Would the current implant cause a permanent change to my facial features?
4) How quickly could we move from making the decision to remove the implant to actually removing it ? (i'm not suggesting this at this point, I'd just like to understand the process)
A: in answer to your custom jawline implant recovery questions:
1) It is important to realize that you are just less than 4 days after your surgery…when things look their worse. A lot will change in the next 2 to 3 weeks when you will feel much more comfortable with the way your face will look.
2) Having done hundreds of custom jawline implants there is no way this design would ever be considered too big. Conversely, in a month or so you will likely feel the other way….thinking maybe I should have gone a bit bigger.
3) You may shave under the chin at 7 to 10 days after surgery.
4) Implant removal will likely have no adverse effects on your preoperative facial shape, particularly when it is this small size.
5) Any removal of the implant before 8 weeks after surgery, when you have had time to fully see the actual facial changes and adjust to them, would be capricious.
6) Implant removal could happen within a week if one decides to do so.
Dr. Barry Eppley
Indianapolis, Indiana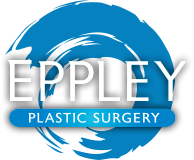 North Meridian Medical Building
Address:
12188-A North Meridian St.
Suite 310
Carmel, IN 46032