Cosmetic Surgery in the Military – Necessary or Optional?
As an appreciation of what our military does around the world, our Patriot Program exists to help make plastic surgery more affordable to them. Having seen and talked to many of these military patients, I have become aware that elective plastic surgery is often done at Armed Services facilities. In addition, one of my plastic surgery techs spent nearly a decade in the military and he often speaks of the cosmetic surgeries that he knows where done or participated in.
According to a recent article in Stars and Stripes (passed along to me by one of my military patients…he thought I might be interested), the military says it does not pay for unnecessary plastic surgery. But an audit of patient records released in February by the Pentagon says this is not so. The audit found that military doctors were regularly performing breast augmentations, tummy tucks, liposuction and other cosmetic surgery without charging the patients as they are supposed to do.
Plastic surgeons exist in the military to perform reconstruction of many injuries that are sustained from war, accidents and disease. The very existence of plastic surgery as we know it today is the result of the experience gained in the first two World Wars in the first half of the last century. Because military plastic surgeons need to keep their skills up for when they get out (and to encourage them to enter the military in the first place), they are allowed to perform cosmetic plastic surgery for patients as long as they pay for it…just what people have to do in the civilian world. Such requirements have been in place for the military for some time. Troops have had to do so since 2005 and dependents and retirees have been required to pay since 1992.
However, it appears that some service members and their dependents are having cosmetic surgery on the military's (your) dime according to the audit. Arguments can be made that they deserve it or it doesn't really matter since most of the costs are already built-in anyway. The basic costs of the facilities and doctor's and operating room staff salaries is an ongoing expense, it is really just a supply issue to perform the surgery.
One of the real interesting sides to this story, and one that we face every day in the civilian world with medical insurance, is what is the difference between medically necessary (reconstructive) and cosmetic plastic surgery. From the military's standpoint, what should they be paying for and what should patients be paying for?  By definition, plastic surgery is reconstructive if it restores or repairs appearance or function from trauma, disease, or birth defects. Cosmetic plastic surgery is changing what is not deformed, injured, or diseased. That seems like a simple differentiation…but it often is not.   
In the Stars and Stripes article, for example, they discussed male breast reduction or gynecomastia surgery. This is a source of embarrassment for many young men but is often viewed as a cosmetic problem in the civilian world and is not often covered by medical insurance. But in the military, male breast enlargement can make wearing body armor difficult and that can make it medically necessary. Similar situations may exist for rhinoplasty (breathing problems), otoplasty (helmet wearing), and even tummy tucks. (hernia repair)
One of the side, but important, issues is being able to recruit or retain plastic surgeons in the military. Outside of being close to a war zone, plastic surgeons in the military may encounter few combat casualties and may not do enough reconstructive surgery to keep their skills and board-certification current. (in some ways, this is thankful) Cosmetic surgery techniques are an extension of those used in reconstruction. A midface lift, for example, is a cosmetic procedure developed from repairing cheek bone fractures and lower eyelid deformities. There are many connections between cosmetic and reconstructive plastic surgery and their differences in technique are often more gray than trying to determine the medically necessary basis of the procedure.
Of significance, the military report suggests that plastic surgeons are increasingly leaving the military because of their inability to keep up their cosmetic surgery skills due to the 2005 patient payment policy. That is unfortunate as plastic surgeons have  a lot to offer our military service members. Perhaps continuing to provide cosmetic surgery is a retention factor for both plastic surgeons and our military alike.
Dr. Barry Eppley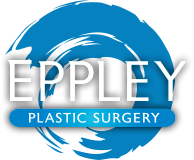 North Meridian Medical Building
Address:
12188-A North Meridian St.
Suite 325
Carmel, IN 46032