Can Liposuction Reduce My Puffy And Full Mons Pubis?
Q: Dr. Eppley, I don't live in Indiana but I haven't been able to find a plastic surgeon in my state that does the type of procedure you do. I have for my entire life had an extreme amount of fatty tissue in my mons pubis region, even when I was 125 pounds (I'm about 140 pounds now) it was just insane how big of a bulge I have down there. I am in a situation financially where I might be able to afford some type of financing arrangement, some type of payment plan… and if that were a possibility I would be more than happy to make the trip out there to Indianapolis to speak with you! I just want to be able to wear a swim suit or tights or just tight jeans without this source of embarrassment! 🙁 I am 26 years old and this has been a major issue for me ever since I was about 10 or 11. I'd give anything to finally have it reduced and just look in the mirror and feel 'normal' although I hate that term. I know nobody else would notice a difference because I've gone to such extents to hide it but just for myself I know it would give me something that I need more than anything right now in my life. It would give me the peace of mind to just wear whatever I want to wear, to do things that other people do without thinking about how to hide this part of my body… please, if there is any forseeable way you think I could work out the financial aspect of this pleasse let me know if I can meet with you! I would so appreciate it. Thank you for your time, I hope to hear from you soon…
A: A large suprapubic mound is not uncommon in many women although it is more unusual in thin women. But its presence in an otherwise non-heavy woman suggests that it is here to stay and will not be eliminated by any amount of diet or exercise. Surgical reduction by liposuction can be remarkably effective and a lot of ft can be quickly removed, In some patients, a suprapubic lift with the liposuction may be needed if there are any excess skin issues, But that would seen unlikely with someone of your weight range and stability.
Dr. Barry Eppley
Indianapolis, Indiana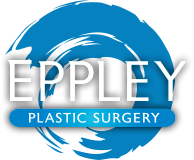 North Meridian Medical Building
Address:
12188-A North Meridian St.
Suite 325
Carmel, IN 46032