Can An Overdone Subnasal Lip Lift Be Fixed?
Q: Dr. Eppley, I have a subnasal lip lift problem. Wish I'd seen your website some months ago. Four weeks ago today, I underwent a sub-nasal upper lip advance (bull horn) by another surgeon. Pre-op I had a lot of distance between my upper lip and my nose and it meant that when I smiled, only my lower teeth showed .(making it appear that I was grimacing). I was advised that I had 21 mm of distance from the top of my lip to the base of my nose, and that I would  benefit from having 6 – 7 mm of tissue removed, in order to show more upper teeth, even when my face was relaxed. Sadly, although visual imaging was available, the visualization was not shown to me. (My mistake for not asking to be shown what I would look like with a lip lift). Although I was told that only 6 mm of tissue was removed, it appears that more than this amount was, in fact, removed. From the base of my nose (columella?) to the top of my cupids bow I have 12 mm of 'space' and (for a male) a 'cupid's bow' that is a bit too pronounced. I feel extremely self-conscious, and have been limiting contact with friends and family ever since the surgery. At four weeks post-op, I would imagine that it is doubtful that my upper lip will 'settle' any further? Even a 'gain' of one or two mm would help things, although 3 mm would be perfect! Although I suspect that this cannot be repaired by replacing tissue, I wonder if surgery to my 'dangling colummella'  of my nose would allow me to pick up an extra two or three millimeters of space between my nose and upper lip? Of course, not sure if that would 'relax' my upper lip so that I did not have such a pronounced 'cupid's bow'. Is this something that you have encountered in the patients of other surgeons, and if so, what (if anything) can be done to try to revise this undesired outcome? Incredibly, as you mention in your website, it really is a case of only a few millimeters.
A: In performing subnasal lip lifts, my general rule is to never remove more than 1/3 of the philtral length in females and only 1/4 of that length in men. In judging the amount of upper lip skin removal, it is always better to be conservative as one can always do more. If too much is removed, some skin relaxation will eventually occur (even up to six months after surgery) but there is no method to add more skin. This skin can not be recruited from the columella…hanging or not. You should keep working on stretching the upper lip with your fingers and tongue as you should be able to gain a millimeter or two over time.
Dr. Barry Eppley
Indianapolis, Indiana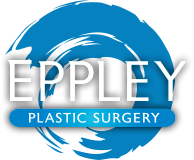 North Meridian Medical Building
Address:
12188-A North Meridian St.
Suite 325
Carmel, IN 46032