Teenage Plastic Surgery Requires Proper Patient Selection
For some teenage patients, cosmetic plastic surgery can be of benefit to their physical and emotional development. Correcting or improving a bothersome physical feature can have a profound influence on a teenager's self-image and psychoscial development. While many plastic surgery procedures are not appropriate for teenagers, there are a handful of procedures that have proven over decades of experience to be very effective and safe.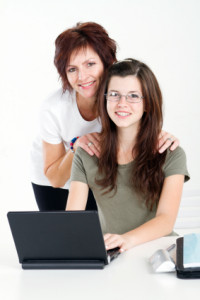 Being under the age of 18, even a visit or discussion with a plastic surgeon must be done with full permission and attendance of the parent(s). It is also important that both the teen and parent(s) are open about their feelings concerning the proposed plastic surgery and to have realistic expectations. Plastic surgery is not a magical fix for many of life's problems nor will it make anyone more popular or successful. But it can make one have a better self-image when a physical feature is out of proportion or a constant concern.
Beneficial Cosmetic Changes for Teenagers
Otoplasty (ear pinning) is one of the most satisfying of all external changes and is the one cosmetic procedure that can be performed even on young children.
Breast Reduction provides relief of neck and shoulder pain, improves the ability to exercise and reduces embarrassment in social situations for teenage girls. It is generally not done before age 16, except under extraordinary circumstances. It is best to wait until the breasts have stopped growing, if possible.
Breast Reconstruction for congenital asymmetry, where one breast differs in size and shape from the other, can be considered during the teenage years if the breast differences are significant enough. Even though operations to correct breast asymmetry can help girls as young as age 16, undergoing the procedure closer to age 17 or 18 is better so that the larger breast has nearly fully developed.
Gynecomastia (Excessive breast tissue) is not uncommon in teenage boys. Often times, it will go away on its own, but if some form of breast buds or mounds are still present at age 15 or 16, it is reasonable to proceed with male breast reduction surgery.
Rhinoplasty (nose reshaping) is the most common cosmetic procedure requested by teenage males and females. Besides changing the outward appearance of the nose, the procedure can also correct breathing difficulties. Nose surgery can be done when the nose has finished its growth, typically around ages 13 or 14 in girls and ages 15 or 16 in boys.
Chin augmentation is often done in combination with rhinoplasty but can be done alone. The lower jaw is the last bone to mature in the face but significant shortness of the chin can be treated as early as age 16. It is important to be sure that the apparent shortness of the chin is not related to a total underdeveloped lower jaw.
Unnecessary Cosmetic Changes for Teenagers
Breast augmentation is not done before the age of 18 for several reasons. One wants to be certain that the breasts are as developed as they are going to be. Getting breast implants is a highly emotional decision that requires a certain level of maturity. Also, the FDA has not approved silicone gel breast implants for any patient under the age of 22. Women between the ages of 18 and 21 can have saline breast implants.
Liposuction should not be done when the body and fat development is still ongoing. Most teens still have an evolving body shape that continues to change until they are at least age 18. Liposuction is not a solution for unwanted baby fat, and surgery is not a shortcut for more effort-dependent strategies for targeted weight loss.
Schedule a Consultation with Dr. Barry Eppley
Dr. Barry Eppley is a board certified plastic surgeon who has years of experience performing plastic surgery for teenage patients. If you would like to learn more about the procedures available, schedule a consultation online today, or by calling 317-706-4444.